electronic manifesto party september 13th

HIV+ from Divine Comedy Records present next industrial electro event at club TROLLEYBUS/Marseille





Postée par Admin le samedi 28 juin 2008 à 15:21
Commentaires (0)
|
UNIVERS CARCERAL BLOG


LINK:



UNIVERS CARCERAL BLOG HIV+






BLOG with free DOWNLOAD, MP3's, ALBUMS, DJ SETS and EXCLUSIVE HIV+'s sounds !!! Change your mind now !





Postée par Admin le dimanche 04 mai 2008 à 11:45
Commentaires (0)
|
split picture disc EP on OPN records


3 new songs & HIV+ cover of "warm leatherette" (The Normal) and B side two tracks by Babylone Chaos.

AVAILABLE NOW !

OPN RECORDS

Postée par Admin le vendredi 14 mars 2008 à 14:23
Commentaires (0)
|
TURN ON, TUNE IN, DROP OUT !

New album "We Are All Haunted Houses" available OUT NOW !!!!
http://divineco.records.free.fr


"We Are All Haunted Houses" is the 6th opus from HIV+, one of the leading figure from the "Made in France" Industrial Culture.
With this new album (easily described as its darker and disturbing one), Pedro Peñas Robles succeed in making tangible the worst childhood nightmares.
Deeply influenced by coldwave and punk sounds from the early 80's, this release also benefits from the contribution of external musicians such as Lambwool, Electric Press Kit, Normotone (Neon Cage Experiment) and Riotmiloo with an acoustic approach. The Talented remixers Tannhauser and Bak XIII complete the casting.
Both artwork and layout were created by the painter Wladd_Mutagéne making this work a "must have" in the already impressive HIV+ discography.




Release Party saturday october 13th (BARCELONA/SPAIN) with GEISTFORM ( Daft records) live act & HIV+ dj set !!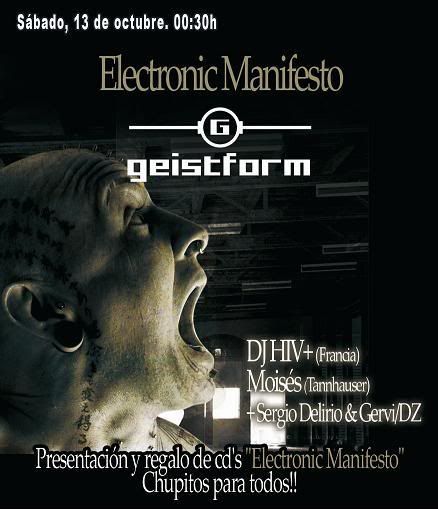 Postée par havoc le samedi 06 octobre 2007 à 14:00
Commentaires (0)
|
live in Barcelona, July 28 th.
Page :
<
1
[2]
3
>
---
Membres
· Admins : 2
· Membres : 18088 [Liste]
· Dernier : zinoc
---
Qui est en ligne ?
· Visiteur : 1
· Membre : 0
· Admin : 0